Ripley's Odditorium Indoor Gatlinburg Attraction
The Strangest Ripley's Museum You'll Ever See
See a car completely covered with crystals!
See a dragon made completely of scrap metal!
See how you measure up to the World's Tallest Man!

In this day and age of the Internet and with a camera in every cell phone, it's not hard to find the weird and unusual in the world these days. Not so 95+ years ago when people rarely traveled outside of their hometown, much less the country. And there-in lies the basis for the popularity and longevity of Ripley's Believe It or Not! Odditorium in Gatlinburg TN that has proudly been freaking out families. With over 500 incredible artifacts from around the world – all guaranteed real and mind boggling – it's just one of the must see attractions out of the Ripley's 8 Wonders of the Smokies.

Thanks to founder Robert Ripley, the cartoonist, explorer, and seeker of the odd and unusual who ventured into unconventional areas and cultures that most Americans never knew existed, Ripley's Believe It or Not! Odditorium is filled with strange, unbelievable, and amazing oddities that still entertain today.
Three stories high, with 16 themed galleries, this museum will subject you to new experiences – some educational and some unnerving – and introduce you to rare treasures, and some just-down-right cool things. I can hear you thinking, "So, how weird?" How about authentic shrunken heads (these were REAL people once!), several animals with more than the requisite four legs or one head, bizarre works of art (that's code for they use weird components like skin). Yeah, all the things that will probably gross you out, but delight your kids.

And of course, you can bring home proof these things exist because you have your own cell phone camera and there are several great photo opportunities including a Spanish humiliation stockade, a giant tire you can actually stand inside of, and a 24K car to name just a few.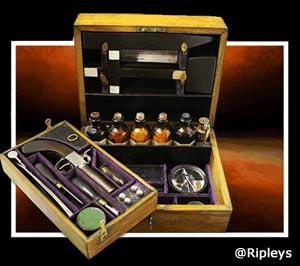 What's NOT weird or unusual however, is the great service, reasonable price, and perfect Gatlinburg cabin location you will find when you book your perfect Smoky Mountain family vacation with Poplar Ridge Log Cabin Rentals!
Discover the Weirdness Brought to You by Talented Mr. Ripley
Ripley's Believe It or Not Odditorium Museum
800 Parkway, Gatlinburg
865-436-5096