Discover And Explore The Gatlinburg Aquarium
Ripley's Aquarium of the Smokies offers guests something new and exciting to see each season, and 2021 is no different. Now open is the newest, interactive exhibit – 'Touch Jellies' – with onsite educators.

The aquarium offers two levels of aquatic adventure, and included with your aquarium admission is several live shows to keep you amazed and entertained! It is suggested that you plan for at least 2 hours to tour the entire attraction, but that may not be enough when you consider there are a dozen live show times each and every day.

Show schedules subject to change due to unforeseen circumstances or varying attraction hours. You may want verify show times when purchasing your tickets.
Daily Live Shows Schedule:

Mermaid Dive Shows
12:30 p.m. | 2 p.m. | 4:30 p.m.
See beautiful and mesmerizing Mermaids at the Coral Reef!

Penguin Shows
10:30 a.m. – Feeding
1:15 p.m. – Parade
2:30 p.m. – Feeding
Watch Penguins being fed and learn about their daily challenges in the wild.

Stingray Bay Dive Shows
11 a.m. | 3 p.m. | 5 p.m. | 7 p.m.
See Stingray's eating from divers' hand!

Coral Reef Dive
6 p.m. | 8 p.m.
Get an exciting glimpse of a feeding of the colorful fish that call reefs their home.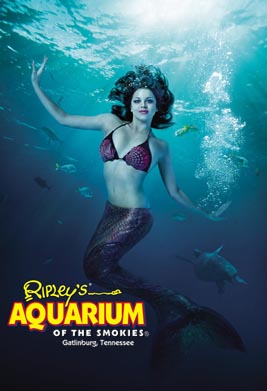 Ripley's Aquarium of the Smokies
Downtown Gatlinburg, Traffic Light #5
(865) 430-8808 | (888) 240-1358 Open Every Day at 9 .m.