Ripley's Attractions Entertain In Gatlinburg
We're going to bet you think you know all about the Ripley's attractions in Gatlinburg TN. We're also betting you're wrong! First of all… how many attractions do you think they have in Gatlinburg? Two, right? Ripley's Believe It or Not! Museum and Ripley's Aquarium of the Smokies. Everyone knows that. WRONG!!

Surprise! Ripley's has EIGHT attractions in Gatlinburg! Thanks to the talented Mr. Ripley, you could plan a whole vacation around them when coming to Poplar Ridge, and we're going to tell you a little bit about each one.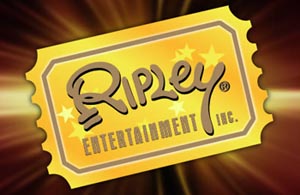 First up: the strangest place in Gatlinburg, Ripley's Believe It or Not! Odditorium. It has been proudly freaking out families for over 90 years with over 500 incredible artifacts from around the world – all guaranteed real and mind boggling.

And how about Ripley's Aquarium of the Smokies? Who doesn't like sharks, eels and other sea oddities, not to mention being able to PET stingrays?! Ripley's claims there are more fish in this aquarium than there are people living in the entire town of Gatlinburg. Maybe those fish are looking at YOU as you parade by!.
Did you know Ripley's has a Haunted Adventure? This multi-million dollar, state-of-the-art haunted attraction uses some animatronics and bone chilling special effects, but they don't resort to using stiff ole mannequins – NO! They use live actors to scare the crap out of you! Don't bring little ones under the age of 5 – it is much too intense for them.

Want to drive yourself crazy? Then run, don't walk, to Ripley's Marvelous Mirror Maze and Candy Factory. Never the same experience twice! The mirror maze allows for an infinite number of surprising corners, dead ends, and continuous circles. If you ever do find your way out, reward yourself with one or two (or three!) pieces of candy from Ripley's Candy Factory located inside the Mirror Maze. It is stocked with hundreds of old time classic candies as well as the latest treats!

Does your family enjoy the newest trend of 5D movies? How about thrill rides? Well, Ripley's 5D Moving Theatre has you covered then. By combining their cutting edge technology, six-channel digital surround sound, and 5D virtual reality simulator, you actually ride WITH the movie and experience every bump, dip, and turn. The seats move in 8 directions!

Ripley's is obviously known for fun, but did you know they're also known for SUPER fun? That would be the retro Super Fun Zone with shooting gallery, indoor mini golf and two laser tag arenas.

Ripley's attractions offer outdoor family fun too! They have two mini-golf courses, one at each end of Sevier County: Davy Crockett Mini-Golf has two courses of animated and interactive displays, and over in Sevierville is Ripley's Old MacDonald's Farm Mini-Golf complex which is actually 3 different courses with—yep—a barnyard theme.

To top off these "8 Ripley's Wonders of the Smokies," they've made it easy and affordable for you to do it all! Purchase all or any combination of attractions for one low price online at Ripley's Tickets. You'll have up to one year to use your tickets and you avoid the ticket line. Just head straight to the turnstile at each attraction you choose to visit.
So come on over to Gatlinburg and have a Ripley's kind of day: different, unusual, and certainly entertaining!